I am participating in the Ready for Summer Challenge put on by Maren and Sarah – check out their blogs, these are two talented, supportive women!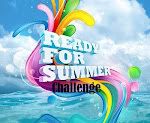 OK, for the Summer Challenge there are 4 categories to set goals for.
1. Weight Loss
2. NSV (Non-Scale Victory)
3. Exercise
4. Nutrition
So, I'm going to set goals in all categories, but I'm being realistic and practical for a change. Here goes!
1. Weight loss. Since I'm not trying to lose any weight, I'm not setting a goal for this category – except to say that I've been indulging in a fair bit of crappy food lately (Easter Creme egg, wine, chocolate cake… yup), and while I'm working out enough for it not to show up on the scale, I need to cut back on some of the junk. So for this week, I will allow myself no more than 3 really indulgent treats… 3 total, not three per day!
2. NSV – Running faster. I'm being so lazy about running right now – so my goal for this week is to run one full sprint workout this week.
3. Exercise – I work six days in a row this week. Getting my workouts in is going to be tough. I don't see anywhere on my schedule where I can get to yoga until perhaps next Monday. Other workouts? Well, I'll have to really focus. So, my goal for this week is to get my workouts in, any way possible.
4. Nutrition – As I listed in point 1, no more than 3 treats this week. Plus I really need to eat more fruits and veggies, and fewer refined carbs. So – goal for this week is to hit my minimum 5 servings of fruits & veggies daily, and more if possible.
The weekly mini goal is to try a new vegetable, fruit, or healthy dish of some sort. This could be tough; with my schedule being what it is there isn't going to be any experimental cooking going on. As for fruits and vegetables – I'll have to go looking for something new at the store! I already eat a broad selection of fruits & veggies, so I may have to get pretty experimental on this one. Hmmm… maybe mango? I've had frozen, but I've never tried a fresh one.
Daily goals update: I went for a short, ugly run, but I went. I wrote, and wrote, and wrote blog posts today! Yay me – I actually finished 6 and started another. I entered 3+ weeks of training into Google, and commented on multiple blogs (I lost count how many). Finally, I went to bed a little early to read. Score!
Today's goals:
1. Swim workout
2. Brick workout
2. Comment on 5 blogs
3. Read for fun
4. Work on 2 blog posts