I am participating in the Ready for Summer Challenge put on by Maren and Sarah – check out their blogs, these are two talented, supportive women!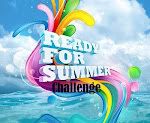 OK, for the Summer Challenge there are 4 categories to set goals for.
1. Weight Loss
2. NSV (Non-Scale Victory)
3. Exercise
4. Nutrition
Weekly Update:
No update this week – still in Vegas!
Weight stats as of May 19:
Current:
Weight: 141.5 lbs
Body Fat %: 27.7%
Body Water %: 52.8%
BMI: 24.2
Change from last weigh in:
Weight: (2.7 lbs down)
Body Fat: (0.7% down)
Body Water: +0.6% up
BMI: (0.4 down)
Change from December 31, 2011:
Weight: 144.7 lbs – (3.2 lbs down)
Body Fat %: 28.7% – (1.0% down)
Body Water: 52.7% – +0.1% up
BMI: 24.7 – (0.5 down)
Swimming:
No swimming this week.
Running:
2012/05/20 – 5.73 miles in 1:13:10 (outside, injured knee at mile 3, walked back)
Cycling:
2012/05/22 – 14.00 miles in 54:14 (super windy ride)
Hot Yoga
No hot yoga.
Weight Training
No weights.
Hurt my knee, then we left for Vegas – which has not been good for training! Oh well, back to the grind on Wednesday.
Now, for the Summer Challenge!
Last week, for Week 9, I set these four goals:
1. Get back to 140 pounds. No update here.
2. Running faster/outdoor running. No pace runs this week.
3. Workouts. None in Vegas so far…. but it's been fun. 🙂
4. Plan for June set. So this one is OK. 🙂
So for Week 10, what am I going to do?
1. Weight loss. I'll be home late Tuesday night, I'll weigh Wednesday and see what I have to come back from.
2. NSV – Running faster. Hopefully we can get one good pace run in this week.
3. Exercise – Back on track starting Wednesday – we have 6.5 weeks to Ironman Racine 70.3!
4. Nutrition – Starting May 31, I'll be following my June plan.
So am I happy with my progress over the last 10 weeks? Mostly. I didn't start with any concrete weight loss goals, so staying the course is fine. My running speed, while not where I want it, did increase. My training for Wisconsin has been OK overall.
What do I want from the next 10 weeks and beyond? Well, I'd like to figure out my nutrition strategy for training, and for the off season. It's one thing to indulge in treats when I'm working out 12+ hours a week, but I have to find ways to cut my calories back and still be satisfied when I'm not working out that much.
The RFSC has been fun, and I've "met" some wonderful people!