I am participating in the Ready for Summer Challenge put on by Maren and Sarah – check out their blogs, these are two talented, supportive women!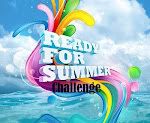 OK, for the Summer Challenge there are 4 categories to set goals for.
1. Weight Loss
2. NSV (Non-Scale Victory)
3. Exercise
4. Nutrition
I'm loving rolling these two updates together – it gives me one more day and I still get all the info in one place. This is the new regular format… at least until the challenge is over!
So, weekly update first! It's weigh in week, so let's do that first…
Weight stats as of April 28:
Current:
Weight: 140.0 lbs
Body Fat %: 27.8%
Body Water %: 52.7%
BMI: 23.9
Change from last weigh in:
Weight: (0.5 lbs down)
Body Fat: (0.5% down)
Body Water: +0.3% up
BMI: (0.1 down)
Change from December 31, 2011:
Weight: 144.7 lbs – (4.0 lbs down)
Body Fat %: 28.7% – (0.9% down)
Body Water: 52.7% – even
BMI: 24.7 – (0.8 down)
Swimming:
2012/04/26 – 2.0 km (100 laps) in 52:14 (fastest swim ever!!)
Running:
2012/04/23 – 1.6 miles in 14:57 (treadmill brick)
2012/04/24 – 3.55 miles in 36:00 (outside)
2012/04/27 – 4.65 miles in 45:30 (outside sprints)
2012/04/28 – 8.1 miles in 1:39:15 (treadmill; long slow brick)
Cycling:
2012/04/23 – 11.4 miles in 45:00 (indoor trainer)
2012/04/26 – 17.6 miles in 1:10:00 (indoor trainer)
2012/04/28 – 33.62 miles in 2:20:00 (indoor trainer)
Hot Yoga
No hot yoga this week.
Weight Training
No weight training this week.
Ok – no yoga and no weights. I skipped one swim workout to stay home and have my dishwasher repaired. But I got all my other workouts in, and I even ran outside a couple of times!
Now, for the Summer Challenge!
Last week, for Week 5, I set these four goals:
1. Get down to about 136 pounds by May 26. As of the end of March, I was 140.5. This week? Progress! 140.0. Half a pound down. Small steps, but I'm happy.
2. One sprint workout – This one was HARD. I ran my shorter runs outside this week, and although I did to sprints, and even managed to hit 8mph for them, I couldn't hold the time the way I can on the treadmill. I only managed 5 of them ranging between 40 seconds and 70 seconds. But I did it.
3. Get my workouts in – Yes! I only skipped one workout this week. I'm really pleased so far with how my training is going!
4. No more than 1 cheat day for the week – I did well. I've been getting lots of fruits & veggies, and have avoided chocolate even when I wanted it. I had one major cheat day on Saturday, which I planned for.
The mini goal for Week 5 was to write a post about Paying it Forward, if we hadn't in Week 4. Since I had written my post already, I tried to visit more of the challengers blogs and catch up and comment, which I did. I still haven't made it to everybody's but I did better this week!
So for Week 6, what am I going to do?
1. Weight loss. Same goal – I'd like to be down one more pound this week. But even if I don't lose a whole pound, just getting below 140 would be HUGE for me – it's been so long!
2. NSV – Running faster. Sprints again – I may not like them, but I need to do them.
3. Exercise – I feel like a broken record! Same goal… trying to stick with my Half Ironman training again, skipping no more than 1 workout again. I'm on nights again, so getting it all in will take dedication.
4. Nutrition – OK, I did good last week, this week I want to do the same. Lots of fruits & veggies, minimal sugar and processed crap.
This week we were asked to share what gives us motivation. This is hard for me – so many things give me motivation, and the truth is, I hate my before pictures, so I prefer not to post them. So instead, I'm posting this picture of 2010 Ironman World Champion Mirinda Carfrae, whom I find incredibly inspiring!
I only wish I could run as fast as her, but honestly, she just inspires me to keep working towards my Ironman dreams!
Daily goals update: I had a busy weekend! Got my workouts in, and on Friday night, Bruce & I went and played poker (and we won a little too – came home with $75 more than we went with, whoo hoo!). I worked on the baby blanket I'm making, and I wrote some blog posts, including one guest post that will be published on May 11 – I promise I'll link up!. I organized all my mail (not exactly a drawer, but it was getting horrible!). I also cooked a little for the family for the coming week. Yay me!
Today's goals:
1. Brick workout
2. 2 blog posts
3. Comment on at least 5 blogs